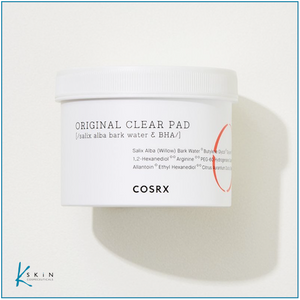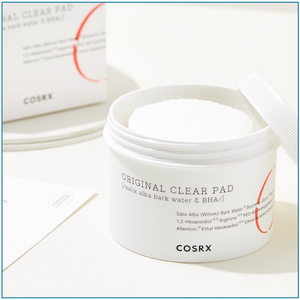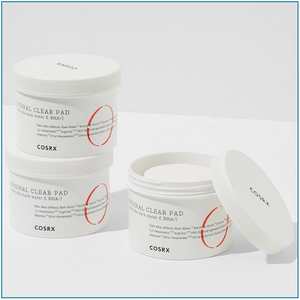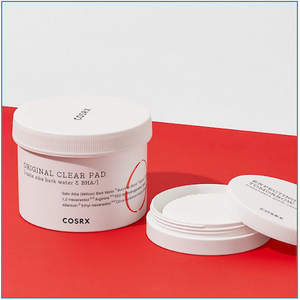 COSRX
COSRX One Step Original Clear Pads (70) New Version
Acne Fighting Toner 
COSRX One Step Original Clear Pads  are award winning, soft, quilted, pre soaked pads. Steeped in betain salicylate, another form of beta hydroxy acid (BHA) that's also oil-soluble. This acne fighting pad helps to combat breakouts and gently exfoliates to prevent sebum build-up. 
2 Side Cotton Pad: Step ① - Embossing Side for exfoliates, sebum care. Step ② - Softer Side: Preps skin for a smoother complexion.
Key Ingredient: Salix Alba (Willow) Bark Water & BHA - helps clear clogged pores and gently exfoliates dead skin cells, giving the skin its natural glow.
How to use: Wipe the embossing side of a pad across face and neck after cleansing. Swipe soft side to pick up the remaining. Use once or twice a day.
Ingredients: Citrus Aurantium Dulcis (Orange) Peel Oil, Ethyl Hexanediol, Allantoin, Panthenol, PEG-60 Hydrogenated Castor Oil, Glycerin, MelaleucaAlternifolia (Tea Tree) Leaf Oil, Betaine Salicylate, Arginine, Butylene Glycol, Salix Alba (Willow) Bark Water, 1,2-Hexanediol, Sodium Hyaluronate, Sodium Hydroxide
---